Hey everyone,
If you follow me on
Twitter
and
YouTube
, you'll know that I re-dyed my hair bright red.
It was nice enough before, but wasn't as bright and vibrant as I wanted. So I decided to start all over again and get the candy apple/cherry red colour I've always wanted.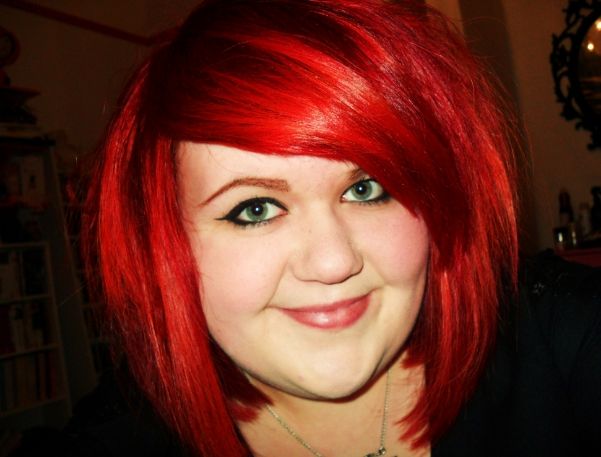 So instead of making this a reallyyyyy long post, I've made two videos on how I did my hair.
The first is all about choosing the right shade of red, and of course how I dyed my hair and which products I used:
And the second has lots of information on keeping red hair really bright and vibrant:
My blog gets a lot of hits from people Googling for red hair tips, and a lot of emails and comments asking what I use - so hopefully this will be of some help.
I'll be adding this
to my original red hair entry from back in May
.
I was also supposed to start my 30 Day vlogging challenge today, however because of the weather our electricity keeps cutting out and uploading has been a little tricky tomorrow.
I'll try my best to get it sorted tomorrow!
Finallement, since I've now been out of a job for about two months
(it feels a LOT LOT longer...!)
I had to go to a very humilating
"BACK TO WORK!"
session at the JobCentre yesterday.
It was very patronising, but utterly hilarious now I look back on it.
I got information on how to become a forklift driver or an asbestos remover...apparently with my GCSEs, A-Levels and honours degree those are my only options. Hmmph.
I did see the funny side though, and was goofing around with my friend Sam, and said if I was to become a forklift driver I'd paint it sparkly pink, install a boombox and blast
I Whip My Hair Back and Forth
around the clock.
So I came up with some conceptual artwork: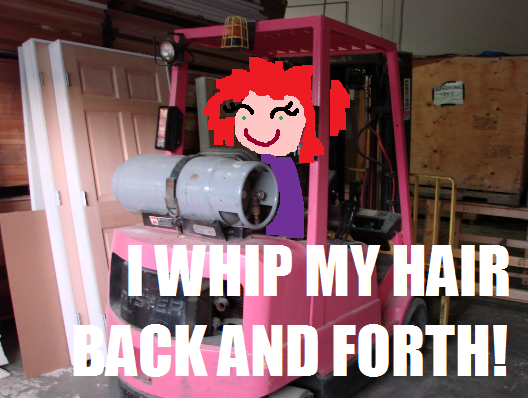 MS Paint is my friend.
It's not all grey clouds though, because this week I stumbled across an amazing internship opportunity on the other side of the world.
It's all very early on now, but definitely something I'm looking into...

Muchos love,
MessyCarla.